The Emergency Response Team is a special service support function of the Wallingford Police Department comprised of specially trained and equipped officers responsible for a "team" response to high-risk situations (i.e., hostage situations, barricaded subject).
The Emergency Response Team is commanded by a supervisor who is responsible for the training and operational implementation of the ERT. The ERT members are selected by the Chief of Police from a list of qualified employees who have volunteered for the assignment.
Cheshire-Wallingford Emergency Response Team (C.W.E.R.T.)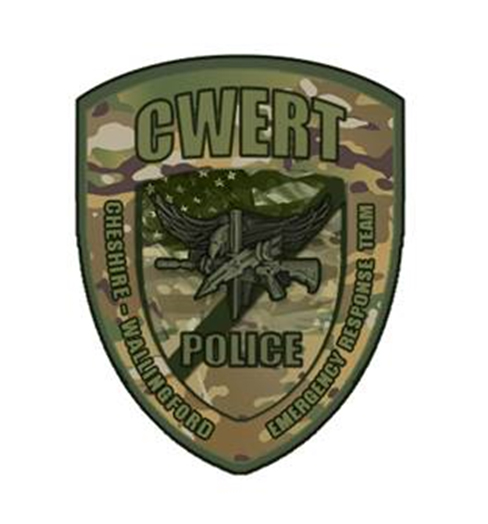 At an ever-increasing rate, law enforcement agencies are encountering life-threatening situations and critical incidents. Patrol units do not have the manpower, specialized training, or equipment to effectively cope with these and other exceptional events. For this reason, the member police departments of Wallingford and Cheshire have formed a regional special operations group to pool resources, develop expertise, and form a highly skilled special response unit. The Cheshire-Wallingford Emergency Response Team, referred to as C.W.E.R.T., includes traditional SWAT operators, a Negotiator Component, and K-9 units that have trained with the team.
Mission Statement
Recognizing that the presence of a highly trained, highly skilled police unit has shown to substantially reduce the risk of injury or loss of life to citizens, police officers, and suspects; and recognizing that a well-managed Team response to critical incidents is in the best interests of citizens of the member departments, it is the intent of the CWERT departments to work together to provide a highly trained and skilled Team as a resource for those agencies requesting assistance in handling incidents that are appropriate for a SWAT response.
The Team shall be comprised of members with the training and expertise to responsibly engage in the following operations, in accordance with NTOA standards and constitutional guidelines:
Tactical command
Hostage rescue
Barricaded person
Sniper operations
High-risk warrant service
Dignitary protection support
Terrorism response
Special assignments that exceed the capability of the local department
Crisis negotiations